Many clients prefer and got used to have tables and matrixes, especially in financial and sales reports. We are many times clueless when we are requested to get the most out of these tables as more usable in Power BI report.  
I think, Power BI is not a tool can entirely substitute every functions of an Excel, if we are truly insisting on table layouts including opening and closing groups, blocks, coluring and formatting possibilities. As a matter of fact we have some more possibilities to enrich these type of tables, we can pave the way to paginated reports or use tooltips or even some additional line or bar charts right after sum lines, making tables more understandable and seeing trends beyond the pure numbers. 
So anybody already have been in a situation like this, can breath a sigh of relief, because the remedy might be one of the recent features from 2021 december, called Sparklines. What is it about? Answer is not complicated, It's an automated line ot bar chart inserted automatically at the end of a table or matrix as a column. Sometimes simple things may cause more happiness, and I really do appreciate this new function. I think many Power BI user's daily life who are working with financial and sales reports would be easier.     
Before accessing this function we must refresh Power BI, it is available since  the last update from december 2021. If we select any table ot matrix visual, in the right part of the insert menu, there is a new Sparkline button. 
This function is also there when dragging measures or other values in the Values panel, by clicking the small arrow next to them, and Add a sparkline line appears. This was more my personal preference, I found it here more handy. 
Setting a Sparkline is pretty similas to a linechart, we add the relevant values to X and Y axises. I assigned Total Sales to Y axis, and the month to X axis. Be aware of filtering years to avoid to aggregate the same months in different years. We can handle this in DAX, and of course making a date hierarchy is strongly recommended. 
The sumarization dropdown helps us to select to count the values as SUM, Minimum, Maximum, Count etc...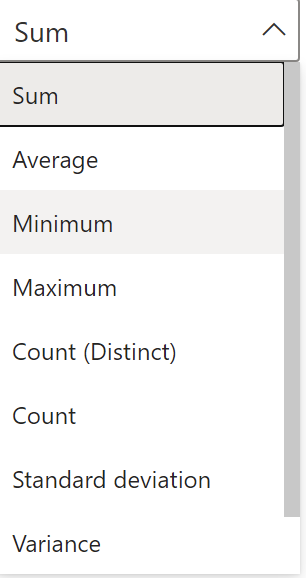 If we did everything well, tadam, we got our first Sparkline column.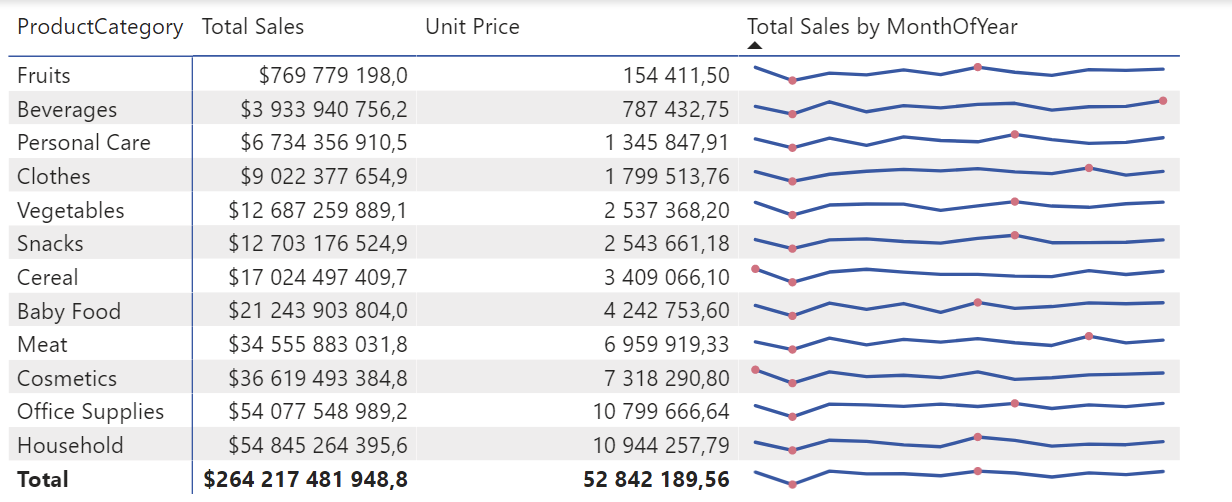 It's cool, isn't it? 
If we had some difficulties with the appearance, we can maintain the base settings any time, using the same way when we created it. And of course we get a new panel in the format pane, where we can maintain a lot of settings. We can select between line- or bar chart, then can add color and the thickness. Unfortunately customising series is missing, hopefully would be added later as a new feature. 
In addition there is another useful feature, we can highlight dedicated points, like Max, Min, or even every points. We can also define the color of these points, unfortunately the points cannot be distinguished in terms of colors, that made me a bit disappointed.  Not only points we can choose, but square, triangle etc., the same list we have in line chart. I prefer bullets all the time, but we are not the same. 
But we another very cool use case as well I must mention. I think this is not a deliberate usage from Microsoft point of view. If we have many SUM data and we are eager on creating Multi KPI card with a bar chart extension, we are able to create one quite quick. 
We need to change to style to none, disable the subtotals in rows and columns in order to focus only category data. In the values section let's enable the Switch values to rows, now we can arrange the title, values and the sparklines below each other. Last but not least let's disable word wrapping at the columns, now we can hide the entire category column, then we still need some minor formatting and the result is something like this:
| | |
| --- | --- |
| | I really like it! Beside the new format pane, this function is my favourite in December. It is not perfect, could be even more configurable but it's worth a try. Its a big step how we can analyse better a matrixes or a tables. And for the users its functionality is still insufficient, can boost it with tooltips or can retain the beloved paginated reports.   |